The Psychological Wellbeing Practitioner (PWP) Professional Network has been established to ensure that PWPs have solidarity and recognition as a new profession, and to enable appropriate representation of the PWP 'voice' in other forums.
What is a PWP?                                                                                      
The Improving Access to Psychological Therapies (IAPT) programme was established in 2008 with the aim of establishing psychological therapy services to enable people to receive evidence based, NICE approved psychological therapies and interventions for common mental health problems.

In line with the programme, the Psychological Wellbeing Practitioner (PWP) role was developed specifically to deliver 'low intensity' interventions by working psychologically in a framework based on CBT principles, engaging with people earlier in their journey of mental health issues to promote their wellbeing.
PWPs help people use evidence-based psychological treatment in the form of guided self – help, in a way which is effective, accessible and person-centred. They use proven, straightforward and effective techniques which focus on people's own strengths.
University College London has recently undertaken a review of the PWP curriculum. 
Aims of the PWP Professional Network and Who is it For
The PWP Professional Network aims to unite PWPs throughout the North West with the intent of developing solidarity as a workforce and sharing and enhancing  skills and knowledge.
The group is open to Trainee PWPs, PWPs and Senior PWPs, and provides a central hub of resources as well as an online forum. The forum can be used to network with other PWPs, share skills and knowledge, and as a tool to solicit opinion from the workforce to help shape policy and inform PWP representation.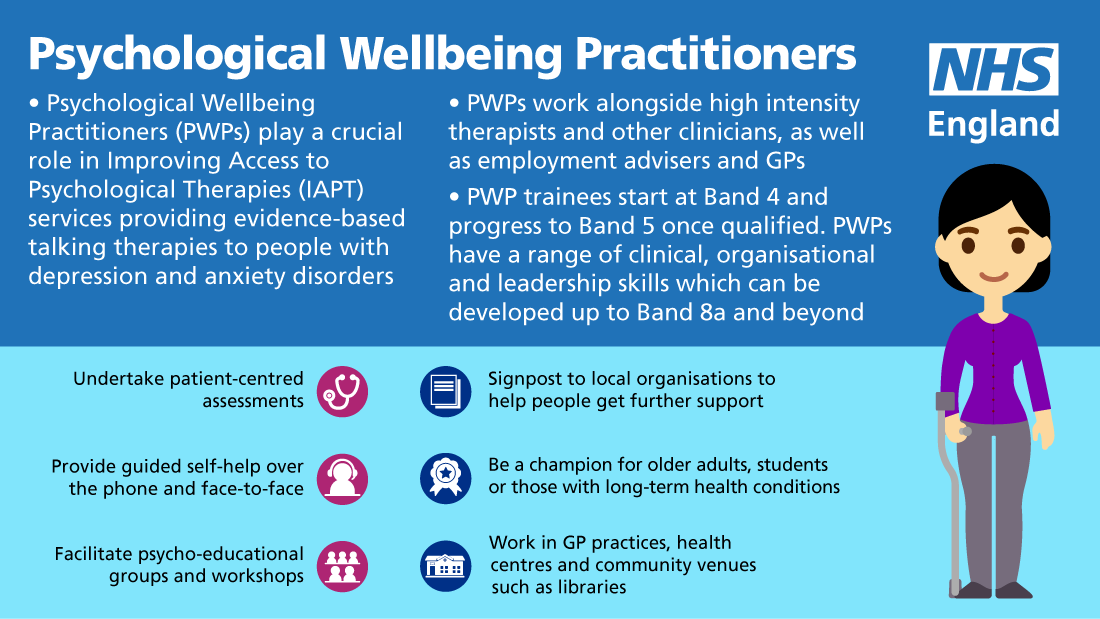 To learn more about PWP roles, use the links below:
Heather Stonebank blog: The role of Psychological Wellbeing Practitioner and  career progression 
Carolyn Houghton blog: A Psychological Wellbeing Practitioner career pathway: an exciting and diverse role
NHS Health Careers: Psychological therapies
NHS Health Careers: Psychological wellbeing practitioner
Senior PWP Group
The Senior PWP Group held its inaugural meeting in October 2014 and meets on a bi-annual basis. The aim of the group is to bring together Senior PWPs working across the North West with a view to sharing best practice, strengthening our voice and promoting parity of esteem.
The group welcomes Senior PWPs (and other PWPs working in senior roles including management and clinical lead roles), and those working in PWP training organisations. The shared agenda includes promoting psychological wellbeing, delivering safe, effective and compassionate psychological care, and promoting the development of this new professional role, to support the development of future leaders of psychological services and encourage innovation.
The group supports the work of the PWP Professional Network, and provides a forum to begin to consider issues which arise for the PWP workforce both at a local and national level, and has already begun to develop relationships with Senior PWPs from the North East and Yorkshire and Humber localities.
The chair of the PWP Professional Network also sits on the PPN North West Workforce Transformation Board.
For more information about the NW Senior PWP Group please contact This email address is being protected from spambots. You need JavaScript enabled to view it. Chair of the Senior PWP Group
Key Contacts
North East Senior PWP Network: This email address is being protected from spambots. You need JavaScript enabled to view it., Chair & This email address is being protected from spambots. You need JavaScript enabled to view it., Deputy Chair 
Yorkshire & Humber Senior PWP Network: This email address is being protected from spambots. You need JavaScript enabled to view it., Andy Wright & Sarah Boul