Sharon Prince
Consultant Clinical & Forensic Psychologist, Deputy Director Psychological Professions
Email: This email address is being protected from spambots. You need JavaScript enabled to view it.
Hello, my name is Sharon, and I am really proud to be the current Chair of the PPN for the NE & Yorkshire. I was born, raised and trained in London but the north of England has been home for the last 16 years. In that time I have worked in Leeds and am now the Deputy Director for the Psychological Professions for Leeds & York Partnerships Foundation NHS Trust . I am a Clinical Psychologist and have worked predominantly with service users who have been marginalised and have histories of adversity, trauma and abuse.
I have a strong commitment to making psychological therapies and psychologically informed care accessible to people in our communities. And I am also committed to ensuring that the profession is as diverse as the communities which we serve, and that the working environment respects that diversity and enables both staff and service users to thrive.
I have a long history of working in partnership with service users, carers, third sector and other statutory services and value collaboration and bringing different and differing voices into the conversation.
I am really excited by the work already happening within the region and the potential to further innovate and raise the profile of the psychological professions. We are as they say, 'Better together'.
---
Dr Jude Graham BEM
Director for Psychological Professionals
Email: This email address is being protected from spambots. You need JavaScript enabled to view it.
Hello my name is Jude, I have worked in different roles in the NHS for nearly 20 years. I am currently the Director for Psychological Professionals at RDaSH NHS Trust, and have been a member of the NEY PPN Steering Group since its formation in 2020. I am so proud to have these roles as I believe passionately that psychologically informed services are extremely beneficial for the well-being of patients, service users, families, and staff in physical and mental health services.
I am a Consultant Psychotherapist and also Mental Health Nurse. I have specific training in Cognitive Behavioural Psychotherapy, EMDR, Psychoanalysis , Systems theory and also Group Dynamics. My Doctorate was focussed upon the support for people and systems who have experienced complex trauma.
My role concerns directly working with patients, service users and groups and also providing a support and leadership role for all psychological professionals in my Trust. My role also concerns working with ICS partners in Humber Coast and Vale ICS and South Yorkshire and Bassetlaw ICS upon specific programmes of work enabling the advancement of mental health, learning disability and autism services. I feel privileged to work with a vast range of clinical specialists, service user group partners and voluntary services which enable me to create as many options as possible for people to coproduce how we progress together to strengthen the services we provide.
As well as my role within RDaSH I contribute to regional work focussed upon clinical developments, service redesign, service commissioning, leadership , education and also reducing health inequalities. I am also a Fellow with the National Institute for Health and Care Excellence, a Trustee Board Member with the Queens Nursing Institute and an Executive Coach using the Tavistock Model.
As a professional woman with disabilities and caring responsibilities, I am passionate about understanding diversity and promoting inclusion and belonging. I actively support local LGBTQ+, Disability and Diversity Networks, and am currently partaking in a reverse mentoring programme. A core part of my role is to make sure I'm available to listen to people , please feel free to contact me.
---
Toby Sweet
Chief Executive, Sunderland Counselling Service
Email: This email address is being protected from spambots. You need JavaScript enabled to view it.
Hello my name is Toby. I have been a counsellor for over twenty years and have worked in a range of settings including primary care and substance misuse services. I am currently the Chief Executive at Sunderland Counselling Service, where I have worked since 2007. Despite our name, Sunderland Counselling Service is a charity providing a wide range of counselling, talking therapy and support services across the north east of England. We are involved in several IAPT services across the north east, specialising in counselling and low intensity CBT, as well as providing a range of specialist counselling services for children and young people, survivors of sexual violence and abuse and for people with cancer and with life limiting health conditions.
I am the co chair of the North East & North Cumbria IAPT Network and take every chance I get to promote counselling, IAPT and psychological therapies across the NENC ICS foot print. Having spent most of my career in the voluntary sector, I also try to advocate for the benefits that a strong voluntary sector can bring to this field of work. I am also very active within BACP and am a member of the BACP Healthcare Division Executive Committee. I hope that the PPN will give us all a strong collective voice to promote the value of what we do!
---
Dr Romana Farooq
Principal Clinical Psychologist & Clinical Lead, Academic Tutor & Anti-Racism Lead Newcastle University & Cumbria, Northumberland, Tyne & Wear NHS Foundation Trust
Email: This email address is being protected from spambots. You need JavaScript enabled to view it.
Hello everyone; my name is Romana and I joined NEY PPN Steering Group in 2021 as part of my passion and interest in increasing diversity in psychological professions and in supporting psychological professions in attending to and interrogating power, privilege, race, racism and disadvantage. I am currently leading on decolonising the clinical psychology curriculum and developing an Anti-Racism Strategy.
Clinically I specialise in working with children, young people and families subject to human rights violations, exploitation, modern day slavery, gang involvement, forced criminality and trafficking. I have particular interests in setting up and delivering trauma sensitive, aware and informed services for children, young people and families subject to multiple and significant traumas but in particular those whose needs are not met by traditional mental health services. I am currently an Expert Member of the Parliamentary Advisory Group on Child Exploitation, Trafficking & Modern Day Slavery.
I have set up and delivered a number of innovative services utilising collaborative and complex commissioning arrangements which has allowed the delivery of psychological services to communities and individuals experiencing disadvantage and marginalisation. I feel that it is crucial that we interrogate how we do psychology and who it benefits.
I believe that as psychological professionals we have a social and ethical responsibility to ensure that our practice and services are inclusive and are actively addressing inequalities and taking an anti-racist stance. I am keen to begin a dialogue with individuals keen to develop this vision.
---
Dr Lynne Howey
Consultant Clinical Psychologist and Psychology Professions Professional Lead (University Liaison and Workforce Development)
Email: This email address is being protected from spambots. You need JavaScript enabled to view it.
Hello, my name is Lynne. I am a Consultant Clinical psychologist within CAMHS and have worked for over 20 years for the NHS in the Durham area of the North East for TEWV NHS FT. My current role is to work with the Clinical and Counselling Doctorate courses in the region to support training. TEWV employs the Teesside University DCLINPSY trainees and I provide their line management. I also have wider role within TEWV to support the professional development of the psychological professions workforce. It is always a pleasure to see people learn and develop throughout their careers and to enjoy the work as much as I do.
Since 2012, I have been keenly involved in the CYP service transformation work in TEWV and have seen the incredible impact on services over this time. I have also worked tirelessly to help services to embrace the use of outcome measures to support and enhance clinical work. I have been a member of the NEY PPN since it began in 2020 and look forward to seeing the differences we can make for the region.
---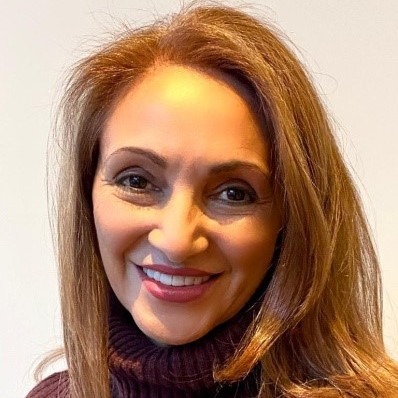 Dr Dorothy Frizelle
Consultant Clinical Health Psychologist & Head of Clinical Health Psychology, Mid Yorkshire Hospitals NHS Trust
Email: This email address is being protected from spambots. You need JavaScript enabled to view it.
Hello everyone; my name is Dorothy and I joined NEY PPN Steering Group in 2020 as part of my personal and professional commitment to continue to support development of and access to psychology for the people, families and communities we serve. My work role is as a Head of Service for Mid Yorkshire Hospitals NHS Trust. The service delivers clinical care across a range of medical specialties and across community, hospital in-patient and out-patient settings. My own clinical practice area is with adults with diabetes and I have a particular interest in interactions between people with physical health challenges and their healthcare professionals and how these interactions can impact clinical outcomes.
I'm fortunate enough to currently support various committee roles – I'm a member of the NICE Diabetes Guideline Update Committee; I am a Board Member for the UK Association of Clinical Psychologists; I currently sit on the National IAPT Stakeholder Group and am a member of the Psychological Professions Network Psychology in Physical Health Expert Advisory Group and I am the National Co-Lead for England for the Diabetes-UK Diabetes Psychology Network.
I believe that psychological professionals as a group are stronger together; that we can celebrate and promote our unique differences and also work together where there is mutual interest. Moving to a system that has distributive justice at its heart and where psychological and social aspects of health and wellbeing are given equal footing to physical health is a goal I believe we can achieve.
Other things about me are that I am a history nerd, a born-again exercise fanatic and (currently) a frustrated traveller. I am mum to two grown up girls and now a Nana to my step-daughters little ones. Happy to chat anytime.
---
Dr Elaine McWilliams
Consultant Clinical Psychologist and Head of Medical Psychology for NT&H
Email: This email address is being protected from spambots. You need JavaScript enabled to view it.
Hello my name is Elaine, I am currently head of medical psychology within the NHS within an acute setting. I have worked clinically within Oncology and Palliative for over 20 years and as head of the medical psychology department with North Tees & Hartlepool NHS Foundation Trust for over 11 years. In my time within this trust I have been able to grown and develop the psychology service and raise the profile of psychology within the organisation to benefit patients and staff alike. We all contribute to the local doctoral training courses as well as nurse training and my contribution is within my specialist clinical area and particularly end of life care.
I have been a member of the NEY PPN Steering Group since its formation in 2020. I enjoy the diverse roles I play within my work and to be able to work with patients and staff to complete the circle of care is a huge privilege. I am a strong advocate of the 'physician heal thyself' philosophy and that when we care for ourselves, our staff and colleagues then we and they will be more able to care for patients and patients 'Mind and Body' together.
Whilst I myself am trained to work across the lifespan and all abilities I also specialised in therapy (my Counselling Masters dissertation was in teenage pregnancy), pure research (my PhD was in stress in pregnancy) and in both quantitative and qualitative methodology (my clinical dissertation was a purely qualitative one, as opposed to my PhD) exploring the process of giving and receiving a diagnosis of dementia.
Psychological expertise, knowledge and skills are owned by many differing psychological practitioners thus collaborative learning and working to benefit the most number of people and an organisation is the way forward. We are all more than the sum of our parts, so together we are stronger, as individuals, groups and organisations (after Fritz Perls – Gestalt psychology).
---
Professor Gillian Hardy
Director, Clinical and Applied Psychology Unit, University of Sheffield
Email: This email address is being protected from spambots. You need JavaScript enabled to view it.
Hello, my name is Gillian. I am currently Director of the Clinical and Applied Psychology Unit at the University of Sheffield. The Unit provides training for a number of psychological professions including Psychological Wellbeing Practitioners, CBT therapists, CBT for Eating Disorders, Educational Mental Health Practitioners, Clinical Associate Psychologists and Clinical Psychologists. I have worked at the University of Sheffield for (too) many years and have led the Unit as it has grown in the training programmes we offer and research we conduct.
I have been a member of the NEY PPN Steering Group since its formation in 2020 and I also sit on the Sheffield Psychology Board. I have seen the growth and great contribution psychological approaches can make to improving the lives and wellbeing of patients and service users. I trained as a clinical psychologist and worked in NHS adult mental health services before moving to the university. Much of my time now is spent in a leadership role within the Clinical and Applied Psychology Unit.
My research interest is understanding the processes of psychological therapies that help people change and the mechanisms of those changes. This has included the role of the relationship between therapist and patient in helping change, the impact of different types of psychological interventions and when and how therapy might be harmful.
I am committed to working across boundaries to improve services and to enable practitioners develop skills for the benefit of the communities they serve. I hope that I and the Unit where I work will be able to contribute to this through the NE and Yorkshire PPN.
---
Markku Wood
Consultant Clinical Psychologist/Clinical Lead CYP-IAPT Northumbria University
Email: This email address is being protected from spambots. You need JavaScript enabled to view it.
Hello all, I'm Markku and have the pleasure of joining the PPN NE&Y in my capacity of working both in clinical practice and academia.
As a clinician I have spent over 20 years working across age ranges but always coming back to specialising in supporting children young people and their families. I spend a large part of my week working as a Consultant Clinical Psychologist in Child and Adolescent mental health services in the Durham area with Tees Esk and Wear Valley NHS trust. I enjoying working across conditions but over the years have developed a specialist interest in Trauma, OCD, Psychosis and Autism spectrum conditions but also have a key interest in attachment theories and attachment based interventions. One of my dominant modalities of interest is Cognitive behavioural therapy (CBT) and I have been an accredited CBT Psychotherapist with the BABCP for over 10 years.
As an academic I have worked with several Higher Education institutions but primarily with the University of East Anglia (UEA) where I workied into adult IAPT and the Clinical Psychology Doctorate and Northumbria University (NU). With NU I work as the Clinical Lead for the Children and Young people's IAPT programmes and have had the privilege there of developing national curriculum in the training of MH professionals who work with children and families, including consulting with HEE and NHSE on the development of the innovative Low intensity wellbeing practitioners, based in statutory, voluntary and education services.
As a researcher my recent interests have been in the development and evaluation of interventions to support children, young people and their families such as the inspirational Rollercoaster project developed by and for parents of young people that experience MH difficulties.
My experience across these fields has led me to a great passion for supporting the development of all psychological professions from low to high to high intensity and I hope to use my role in the PPNNE&Y to champion and to continue the development of psychological roles, widening access to all cultural and ethnic groups and to all levels of education.
---
Jill Barker
Principal Lecturer Enterprise & Business Engagement, School of Health & Life Sciences, Teesside University
Email: This email address is being protected from spambots. You need JavaScript enabled to view it.
Hello my name is Jill, I have worked across the NHS and higher education in a variety of roles throughout my career. Currently I am Principal Lecturer for Enterprise & Business Engagement in the School of Health & Life Sciences at Teesside University. I have been a member of the NEY Psychological Professions Network since its formation in 2020.
As a Registered Mental Health Nurse I am very interested in the mental health and wellbeing of individuals and I have specific research interests in mental health with a focus on suicide prevention and serious mental illness.
My role focuses on understanding the needs of businesses and employers in relation to their workforce and research and development needs and interests by providing educational and research solutions to businesses and employers. I have extensive experience in curriculum development and design and have been involved in the development of educational courses at all academic levels. These include courses to support new roles and new ways of working across healthcare, such as the development of Peer Support Workers in Mental Health. This course is an excellent example of co-production with people with lived experience of mental health issues. Co-production is also a strong feature of my research work ensuring that research is done 'by' and not just 'to' members of the public and those with lived experience. As a member of the NENC ICS Evidence & Evaluation Group (Mental Health) I am keen to collaborate with colleagues across the healthcare system and academia to understand how best practice can be promoted and embedded into services to ensure people and communities receive the best possible care.
I also have interests in developing leadership and quality improvement across the healthcare system and have designed, developed and delivered many leadership and quality improvement courses at a range of academic levels. I am a qualified Healthcare Leadership Model Facilitator. I believe it is imperative to have strong and compassionate leadership in a complex healthcare system that understands how to engage people within respectful and inclusive organisational cultures.
---
Dr SJ (Ash) Summers
Clinical Psychologist and Programme Director, Teesside University Doctorate in Clinical Psychology
Email: This email address is being protected from spambots. You need JavaScript enabled to view it.
Hello my name is Ash. I am an HCPC registered Clinical Psychologist and Programme Director of the Teesside Doctorate in Clinical Psychology programme.
I qualified in 2000 at Teesside and specialised in working with adults and children with learning disabilities, working in Middlesbrough and Hartlepool. I became a Consultant Clinical Psychologist in 2008. In 2011 I began working in Queensland, Australia, where I managed and led disability services; driving change around elimination of human rights abuses and restrictive practices, and leading improvement in services. I then became part of the programme leadership team for the Master's Programme in Clinical Psychology at CQ University, prior to my return to the UK in July 2015.
My role as Programme Director concerns leadership of the Doctorate in Clinical Psychology. My areas of interest are in working with people with a learning disability, bereavement and loss in this client group, and everything to do with training the next generation of Clinical Psychologists with a wide range of skills to equip them to work and lead within the NHS. I am excited to be in my role at a time of increased commissioned places and building of capacity in the psychological professions.
I am ultimately motivated by my belief in the importance of increasing and improving access to psychological approaches, with the aim of helping people make sense of distress using psychological assessment and formulation. I am interested in guiding and improving practice, and increasing capacity within the psychological professions to meet the needs of vulnerable people. My work is underpinned by my values. Central to this is the recognition of the importance of meeting the diverse psychological needs of our community, and the relevance of multi-layered disadvantage in our understandings of, and approaches to, psychological distress.